Barrie Sharks & Toronto Maple Leafs Bringing FIRST SHIFT to Barrie
---
---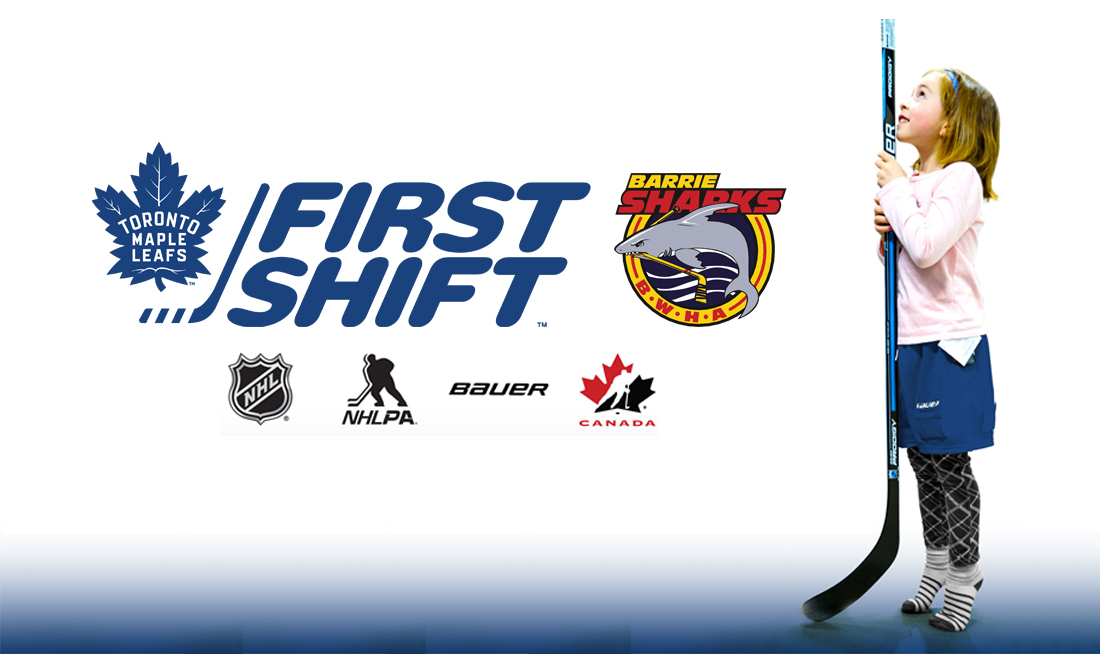 The Toronto Maple Leafs' FIRST SHIFT program is coming to Barrie!
The First Shift program is a great way for young players to discover and fall in love with hockey! This girl-only program is for those who have never played hockey before, introducing new players to the basics of the game. PLUS at an exclusive welcome event all players will receive a personalized equipment fitting, and registration fees include all the Bauer hockey equipment needed for their first season.
The NHL/NHLPA First Shift is open to children ages 6-10, who have never previously enrolled in minor hockey within Canada or the NHL/NHLPA First Shift program. To be eligible to participate, children must be born between January 1, 2011 and May 1st, 2016. Players should be able to skate independently, without assistance.
First Shift Includes:
6 on-ice sessions
Special experiences offered by the Maple Leafs
Head-to-toe equipment including skates
Personalized equipment fitting & education
Program Schedule:
October 27 - 6:00pm - East Bayfield (off-ice welcome event and equipment fitting)
November 7 - 8:30am - Allandale Recreation Centre (first on-ice session)
November 14 - 9:00am - Sadlon Arena
November 28 - 9:00am - Sadlon Arena
December 5 - 9:00am - Sadlon Arena
December 12 - 9:00am - Sadlon Arena
December 19 - 9:00am - Sadlon Arena
All sessions and head-to-toe Bauer equipment for one low price: $229!
PLUS: Graduates of the First Shift program will have the opportunity to join our 2021-2022 House League season in January 2022 following the holiday break, for a special discounted rate!
(More details to be announced once fees for the 2021-22 house league season have been set).
To learn more about the program, visit the First Shift website: https://www.firstshift.ca/
Click here to register for the Barrie Sharks / Toronto Maple Leafs First Shift program.
Don't delay - spaces are limited and will go fast - register today!